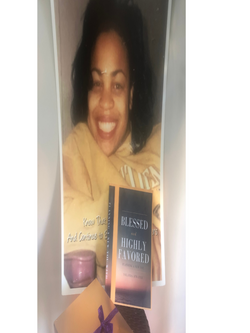 Blessed and Highly Favored: Planning a New You w/ Yolanda "Yogi"
Blessed and Highly Favored: Planning a New You with Yolanda "Yogi" (Roberts) Atwater is an interactive planner that guides you through the ENTIRE YEAR! 

+ 2022 Planner
+ 220 Pages
+ Size: 8.5 x 11 
Yolanda Atwater: The Creator and Beautiful Spirit 
"Goodbyes are for those 
Who love with their eyes
Because for those who
Love with their heart and soul 
There is no separation."
-Rumi
These lovely words are a reminder that while Yolanda (Roberts) Atwater, whom we will forever know simply as Yogi, may be separated from us in a physical, earthly sense, she is ever more present in her authentic form, a tender spirit, radiating life and love. 
Since her debut on this place we call earth, she exuded purpose, whether it was personally, professionally, or spiritually, Yogi aimed to live in perfect harmony with her Creator. 
She was the embodiment of what is meant of "thou faithful servant."
Although Yolanda, may have departed from us she left a few things behind that she wanted us to cherish and really use!
This planner is a composite of collections over the years God spiritually spoke to Yolanda, all while battling breast cancer which she gifted to us all, as a present! 
As we go through the journey of, planning a new you planners, we notice that Yolanda wanted us to be evermore present! 
Peek inside and start unlocking the mysteries that live within you.


Blessed and Highly Favored: Planning a New You Planner Details:
January 2022 - December 2022
Calendar 2022
Vision Board
Monthly Check-ins
Monthly Reflections
Monthly Objectives
Weekly Inspiration
Writing Prompts
Biblical Based Practices
Prayer Practices
Water Tracker
About Author Yolanda Atwater
Yolanda's Infamous Quotes & Theology

_________________________________________________________________________

Yolanda wanted to thank everyone who was fighting with her on and during her life's journey (and breast cancer journey). She was ready to be with her Lord and savior. Her final notes were; make sure you forgive, Loveeee, I can do all things through Christ who strengthens me, and lastly, I am walking on the water with Jesus, and it feels so good.

Special acknowledgments to Elex and Rosetta Roberts - (Yolanda's Parents), Carolyn Jones [and Kids], Tanya Roberts [and Kids], Vanessa Mosby [and Kids], Elex and Diann Roberts [and Kids], Elijah, and Kelli Roberts [and Kids], Eugene Roberts [and Kids], Tanita Roberts, Wayne, and Alberta Roberts [and Kids], Jackie and LeRoy Davis [and Kids]- (Yolanda's Siblings), Curtis and Septembre Lewis, Valencia Henderson, Tina Brand, and the whole PFP, Sabrina Brand, Brianna Brand, Tylin Roberts, Monique Gay, Denzel Gay, The Bullock Family, LaTesha, and Rodney B., Temar Hudson and Kimberly, Megan and Terri Wilson, Chris Roberts and Family, The Entire Allen Family, The Entire Roberts Family, Friends Sheryl and The Guthry Family, The Oasis of Hope Staff and Family, Emory Health Care Staff (Midtown), all of Yolanda's; Children, Tedgela Hamilton, and Kyra Junior, Closest Friends, Family, Nieces, Nephews, and God Children -

Special thanks to everyone who donated to Yolanda's cause for homeopathic alternative chemo treatments.

Please see the dedication video link below to whom Mrs. Yolanda wanted to dedicate this book: https://www.youtube.com/watch?v=Xx9zGPoLNuk.

_________________________________________________________________________

Color: Maroon, Gold, Rose Gold

The planner was printed on Yolanda's 50th Birthday (April 25th, 2019), edited, and gifted back to her as a present
( see video https://www.youtube.com/watch?v=Xx9zGPoLNuk ) She went to Heaven just a few short months later (September 4th, 2019) before officially publishing her book and was in perfect spirits. This version is the original version Yolanda had and is in the present tense.
All Products Ship within 5-7 business days!
Please be advised of unforeseen shipping issues due to covid! 
Orders purchased by December 15th, 2021 will arrive before December 25th, 2021!